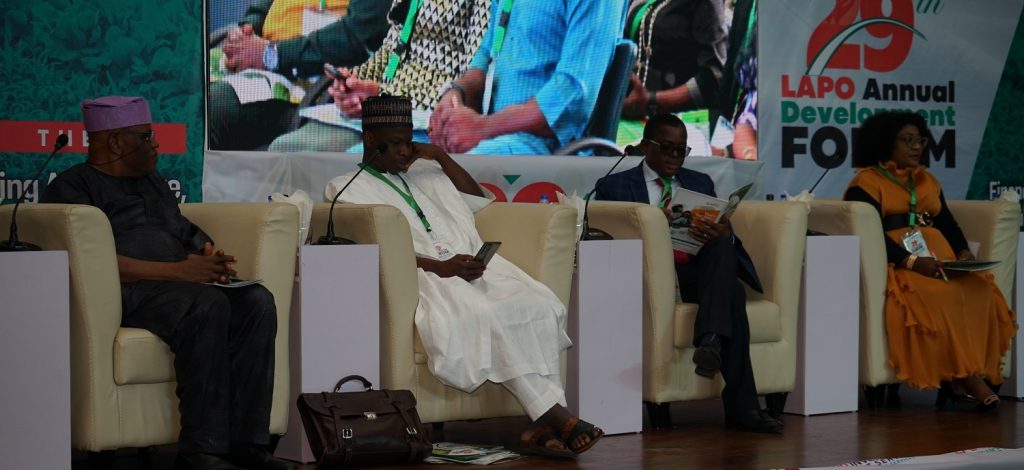 About LAPO Annual Development Forum
The LAPO Annual Development Forum was initiated in 1994 and has become a faculty of development in its own right. The Forum is a vital component of the organization's strategy for stimulating investigations into the nature and causes of poverty and has stimulated discourse on the development agenda in Nigeria and Africa with very realistic solutions canvassed by guest lecturers and conferees.
The Forum provides a veritable platform for stakeholders to discuss and proffer pragmatic solutions to identified issues in poverty and development. Participants usually include partners in development, government agencies and institutions, policy makers, the academia, religious, traditional and professional bodies, the media, civil society organizations, with inputs from key sectors of the economy. Highlights and reports of the Forum are published and widely circulated.
The theme of the first edition of the LAPO Annual Development Forum held in 1994 was "The Nigerian Economy and the Poor: 1984-1994". Discussions and conclusions at this session reinforced our belief that sustainable approach to poverty alleviation must go beyond charity and directed at strengthening income capacity of the poor. Subsequent editions of the Forum addressed other pertinent issues.
Former Head of State, General Yakubu Gowon, GCFR, Former President Olusegun Obasanjo, GCFR, Former CBN Governor, Professor Charles Chukwuma Soludo, CFR and Hon. Justice Samson O. Uwaifo, CON, JSC (Rtd) are among prominent personalities in Nigerian who have either chaired or delivered keynote papers at the Forum in the past.
OBJECTIVES
To examine and proffer solutions to the challenges inhibiting primary healthcare delivery in Nigeria
To advocate for workable policies and strategies to ensure access to quality health care in rural communities
To contribute to lowering child and maternal mortality, and to improve basic health care for all, including reproductive services.
OUTCOME
A well-documented and publicized report containing presentations, discussions, major conclusions and recommendations capable of stimulating sustainable socio-economic transformation in Nigeria.
Implementation of new and existing policies capable of driving the growth and development of the Nigeria health sector.
ACHIEVEMENTS OF THE LAPO ANNUAL DEVELOPMENT FORUM
The LAPO Annual Development Forum has over the years provided stakeholders the needed platform to interact and proffer realistic solutions to the crucial problem of poverty and under-development in Nigeria
Ideas generated from previous editions of the Forum have improved the programme focus and delivery methodology of development organizations including LAPO.
Key resolutions at LAPO Annual Development Forums have inputted into national poverty reduction programmes of various tiers of government.